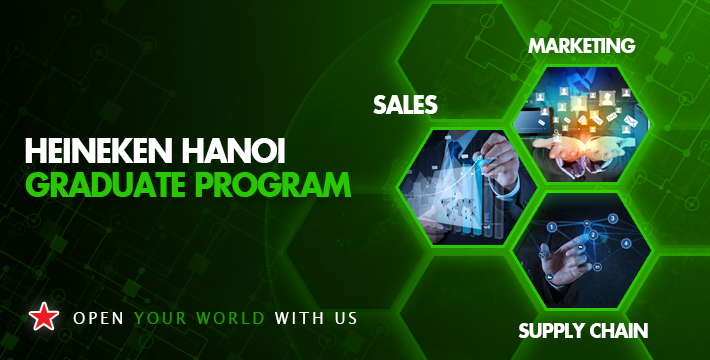 OPEN YOUR WORLD with HEINEKEN HANOI !!!
This is the high time to consider a career start with Heineken Hanoi – we are now offering constant opportunities for career progression in a dynamic working environment. Let's apply and become part of an exciting local traineeship program – Heineken Hanoi Graduate Program (HHGP).
For high-achieving graduates, it's a chance to explore your potential, discovering new levels of capability and aspiration. Each graduate will undertake 03 assignments, all of which are 8 months in length while specializing in one function with cross-functional exposures. During 24-month journey with HHGP, you'll work with leading brands and learn from the best talents in one of the world's most respected organisations.
Benefits of HHGP trainees:
Participating in a comprehensive induction program with Management involvement;
Specializing in different areas of 01 function, including: Sales, Marketing, Supply Chain
Being coached and mentored by the most experienced Managers and Function Heads in the business;
Shaping your career and experiencing leadership development through formal and on-the-job training
Target profile:
Heineken Hanoi is looking for Vietnamese young talents with the following qualifications:
Bachelor/ Master Degree from a reputable university of relevant background, with less than 01 year of experience (internship, voluntary or part-time job are excluded)
Very fluent communication in both written and spoken English
Willing to learn and desire to grow career in FMCG
High adaptation with culture diversity
Proven attitude for result orientation with strong leadership, teamwork and passion to deliver great performance
Specific background requirement:

For Commercial (Sales and Marketing): Preferably from Economics, Marketing, Trade and Business Administration.
For Supply Chain: Bio-Chemical, Bio Technology, Food Technology, Foreign Trade, Automation
Selection Process:
Successful candidates must go through the following recruitment rounds including:
First Round: Aptitude test (IQ and English)
Second Round: Interview with HR Department
Third round: Personality test
Final round: Panel Interview with Department Heads / Assessment Centre
We will not only screen your application based on academic transcript, we also look into your active participation in extra-curricular activities or other strengths that you can show via your resume. Only successful applicants will be invited via email or phone contact for further process.
Application period will close on 31st December 2016.
Contact point:
Nguyen Thuy Duong – Talent Management Manager
E: nguyenthuy.duong@heineken.com
T: + 84 4 3636 9323 - Ext 866